BARRE:
Our barre classes combine classical ballet barre exercises with athletic conditioning and performance training to provide a challenging full-body workout. Fun, upbeat music is used to keep each participant inspired to get through this high intensity workout!
BARRE SCULPT:
A very effective class that fuses the best of barre with a little more weight training.
MAT PILATES:
Our mat pilates classes apply contemporary principles to classical matwork. Emphasis is placed on maintaining a neutral spine in order to maximize the benefits of the exercises. Pilates has a built-in flexibility component so the participant creates long, lean muscles. Pilates is for everyone and we offer modifications to accommodate all levels of fitness.
SMALL GROUP EQUIPMENT / CARDIO TRAMPOLINE: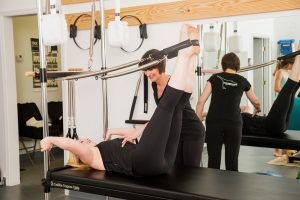 Small Group Equipment classes are limited to 2 – 5 clients. Participants will get a full-body workout using all the pilates apparatus in the studio including the Reformer, Cadillac, Split-Pedal Stability Chair, Ladder Barrel, Tower Trainer and Spine Corrector. These classes are 50-minutes in length.
Cardio Trampoline classes are limited to 1 – 3 clients and are exclusively held on the Reformer, using the Cardio Trampoline attachment to create a 30-minute, full-body workout that is cardiovascular in nature.
Both class formats are multi-level, but it is recommended that clients who are new to pilates equipment workouts take some private sessions prior to joining the small group classes.
TRX CIRCUIT:
Total Resistance Exercise utilizing straps and your own body weight to create a challenging full body workout with a focus on core strength and balance. Multi-level.